Sundvolden GP / Ringerike GP
Allerede samme høst som klubben ble etablert, høsten 1975 ble klubbens første nasjonale ritt arrangert. Fossen Grand Prix samlet hele Norges elite til gateritt i Hønefoss sentrum og ble etter hvert en klassiker i norsk sykkelsport. Fossen Restaurant var rittets hovedsponsor inntil 1992 og fra og med 1993 har Ringerikes Blad vært rittets hovedsponsor.
De første årene ble rittet kjørt som endagsritt, men allerede i 1979 ble det arrangert 3- dagers etapperitt (Fossen 3-dagers) med fire etapper: Gateritt i Hønefoss, Hønefoss – Jessheim, tempoetappe fra Gardermoen til Jessheim, og avslutningsetappe fra Jessheim til Hønefoss.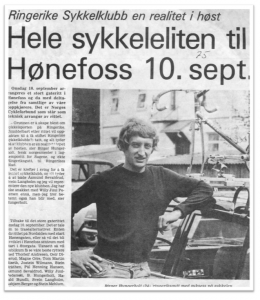 Det skulle altså gå 27 år før rittet igjen beveget seg ut av distriktet. Med start og mål første dag på Beitostølen, og andre etappe med start på Fagernes. Senere har også Geilo kommet til som arrangementssted.
I 2011 ble Tour of Norway realisert etter en rekke år med planlegging. Tour of Norway tok over plassen til Ringerike Grand Prix på den internasjonale kalenderen, og ble det første arrangementsåret arrangert på samme kategori som Ringerike GP (UCI 2.2). I 2012 ble imidlertid Tour of Norway oppgradert til kategori UCI 2.1, og profesjonelle lag fra de to første divisjonene internasjonalt kunne for første gang delta i rittet.
Selv om Tour of Norway på mange måter erstattet Ringerike GP, så ble rittet allikevel arrangert som nasjonalt eliteritt i 2011 og 2012. I 2011 ble også GP Norefjell arrangert samme helg som et nasjonalt eliteritt.
I 2013 ble Ringerike GP igjen oppført i UCI-kalenderen som et kategori 1.2-ritt. Hadeland Grand Prix ble samtidig etablert som et endagsritt på samme nivå.
Historie fra og med 2013 –>